Robust Short-Term PatternsTM (RSTP) is a research project that verifies trading concepts proposed by Richard Wyckoff and Arthur Merrill, evaluates key parameters, and introduces new trading patterns. The patterns are price-driven, statistically valid, and benchmarked against the best performing trading systems. The core patterns are based on volatility cycles and compounded volatility patterns.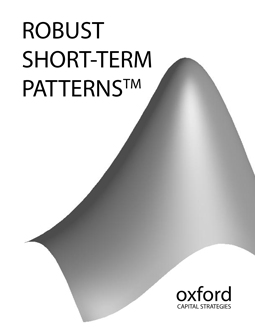 Features
Complete trading system (MATLAB®, TradeStation®, MultiCharts®)
Non-correlated to trend-following
Self-adaptive algorithm
Simple trading logic
Robust design
Pricing
For more information regarding pricing and performance, please contact us.